The Beep card is one of the most easily available choices as more Filipinos who are switching to electronic payment for their transactions. It is a stored value card used as a payment system in the Philippines for various modes of transportation such as the Metro Rail Transit (MRT), Light Rail Transit (LRT), Point-to-point (P2P) buses, modern Public Utility Vehicles (PUV) and even some ferries. It is a reloadable card that can be used to pay fares, eliminating the need to carry cash or buy tickets every time you ride.
What is Beep?
Beep Card is a reloadable contactless smart card that allows users to pay for their transportation fares without the need for cash. The card can also be used for payment at select stores and other establishments that accept Beep as a payment option.
This card offers the following features:
Beep cards are interoperable and can be used in LRT-1, LRT-2, MRT-3, EDSA Carousel Buses, provincial buses, modern PUVs, Cebu ferries, and various selected LRT-1 Merchants, and select Ministop and Lawson convenience stores.
The card is reloadable and valid until four (4) years with an option to extend for 1 more year.
No minimum load with a maximum load of PHP10,000.
Safe & convenient - no physical contact, no spread of virus
Special discounts - enjoy special discounts from its partner establishments
Earn reward points every time you use your Beep card (Beep rewards)
How much is a Beep Card?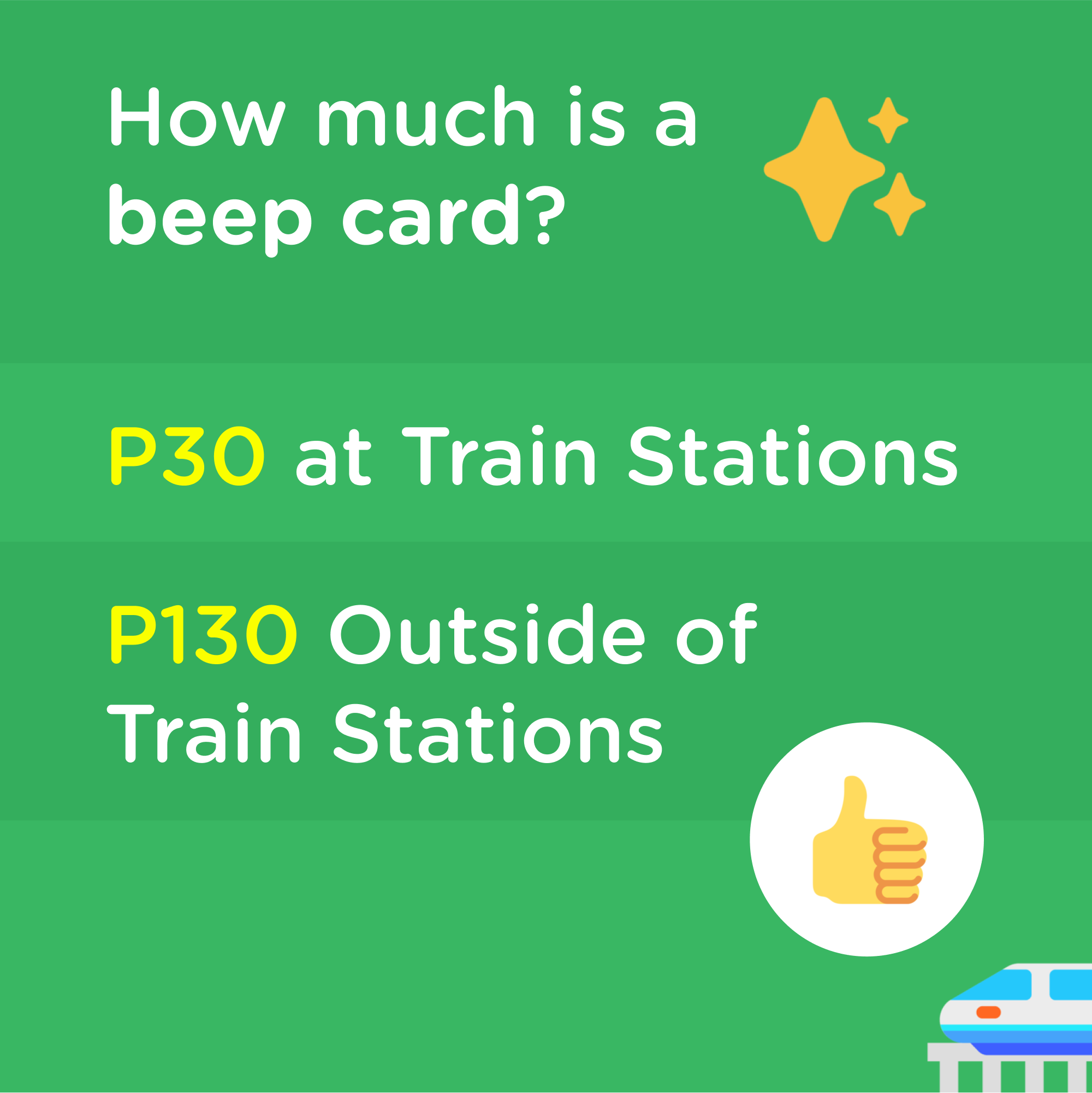 Beep cards can be purchased at train stations for a one-time fee of PHP30.00 (around USD 0.50). Outside of the train stations, the cards are sold for PHP130.00 (around USD 2.50).
Where can I buy a Beep card?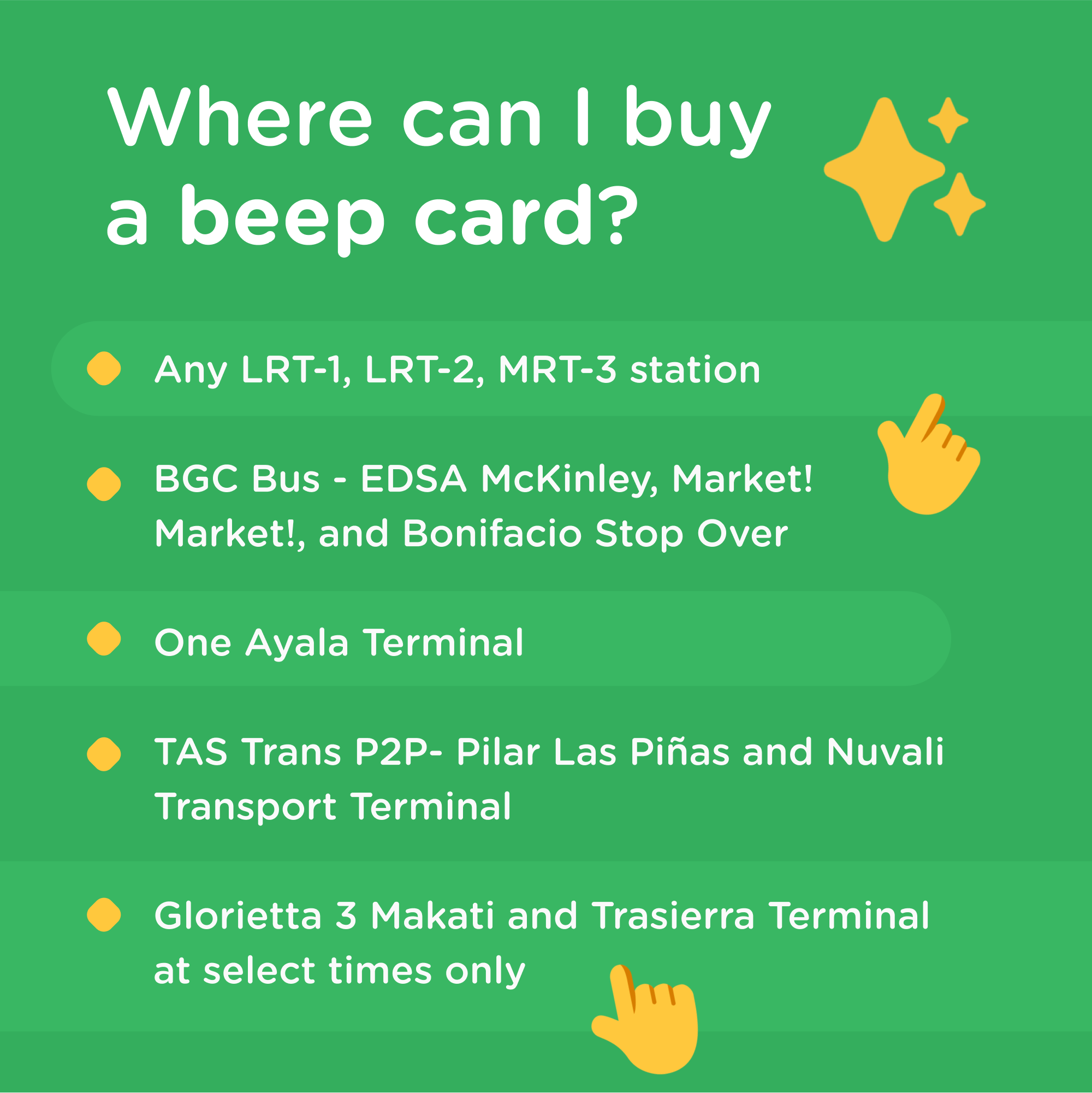 Train Stations 🚉
You can purchase Beep Cards from any of the stations of the LRT-1, LRT-2, and MRT-3. Approach any of the teller booths or use the self-service Ticket Vending Machines (TVMs) to buy one.
Select Bus and Transport Terminals 🚏
Cards can be purchased at the following stopovers:
BGC Bus EDSA McKinley Stopover - available from 5:00 AM to 12 Midnight (weekdays) and 5:00 AM to 11 PM (weekends)
BGC Bus Market! Market! Stopover- available from 5:00 AM to 12 Midnight (weekdays) and 5:00 AM to 11 PM (weekends)
The following locations are only available on weekdays, except on holidays:
Bonifacio Stopover - available from 4:00 PM to 7:00 PM
One Ayala Terminal - from 1:00 PM to 7:00 PM
TAS Trans Pilar Las Piñas and TAS Trans NUVALI - from 5:00 AM to 12:00 PM
Glorietta 3 Makati and Makati Trasierra - available from 2:00 PM to 10:00 PM
Alabang Town Center and Starmall Alabang - from 5:00 AM to 9:00 AM
Greenbelt 1 and Starmall Shaw - from 4:00 PM to 8:00 PM
Retail Stores 🛍️
Daiso Japan stores in Metro Manila are selling Beep cards featuring Hello Kitty-themed designs. These limited-edition collectible cards are being sold for PHP188.00 (around USD 3.50) without load and features four "kawaii" designs.
Check out the branches which sell the card here.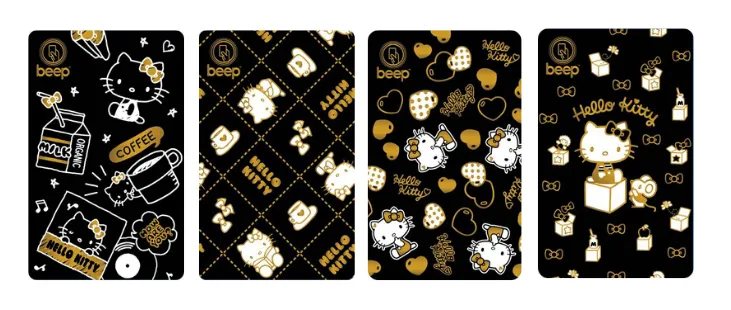 Online Channels 🛒
You can now add the Beep card to your online shopping cart from your preferred online shopping store such as Facebook Marketplace, Lazada, or Shopee!
Cards sold online costs PHP188.00 (around USD 3.50), not including shipping fees, which is lower compared to those sold at train stations. This is because the government provide subsidies for the cards sold at the train stations as part of a concession agreement.
Click the links below to make a purchase:
Where can I load my Beep Card?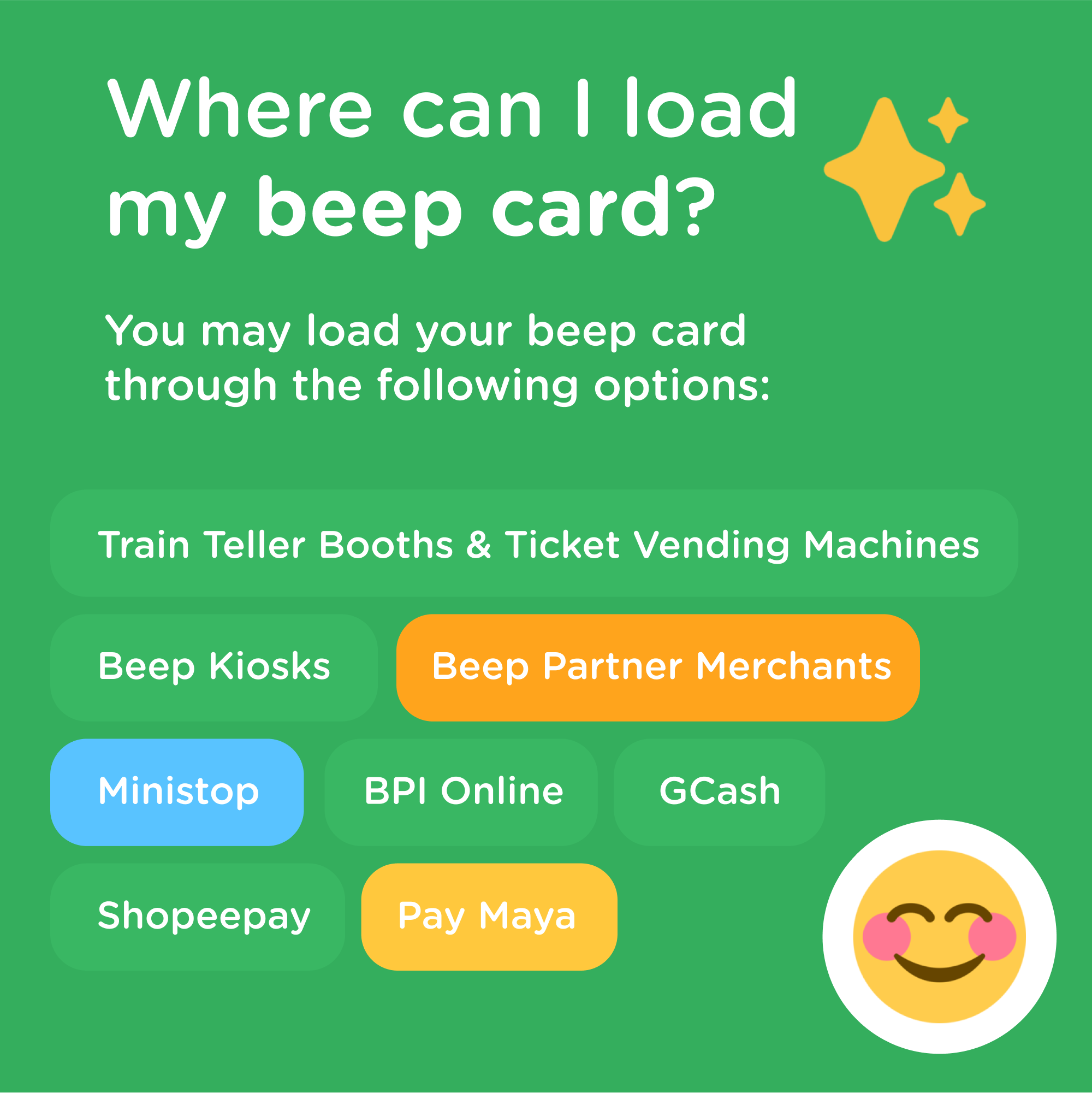 You can load Beep cards at any LRT and MRT station, passenger terminals of transport partners, and selected Ministop branches. Additionally, Beep cards can be loaded using self-service kiosks, the Beep app, or Over-The-Air (OTA) loading partners such as Gcash, Maya, Bank of the Philippine Islands (BPI), Sharetreats, ShopeePay, Venio, Chinabank, LandbankPay to name a few.
💡
How to Load via OTA Partners?
To complete an OTA load, follow the procedure provided by the OTA partners. For a list of OTA partners and their respective processes, click
here.
The card can be reloaded with amounts ranging from PHP 100.00 (around USD 2.00) to PHP 10,000.00 (around USD 200.00), depending on the reloading station. To reload your card, simply present it to the reloading station attendant, indicate the amount you want to load, and pay the corresponding amount.
How can I check my Beep card load?
To check the balance of your card, here are the options:
Download the Beep app from the Apple App Store or Google Play Store. The app is free, and you can register up to 5 cards. Through the app, you can view your balance and transaction history.
If you have an NFC-enabled phone, you can check your balance in real-time by tapping your card on your phone.
Tap your Beepcard on the reader of the Ticket Vending Machine (TVM) located in any station of the LRT and MRT. You may also ask for assistance at the teller windows.
Tap your card on the reader at selected Ministop branches and LRT1 merchants that accept Beep payments.
How to extend Beep Card validity?
You have the option to renew it within 180 days before or after its expiration date for a fee of only PHP10.00 (USD 0.18). Upon renewal, the new expiration date will be one year from the original month of expiration. For example, if your card expires in December 2022 and you renew it, the new expiration date will be December 2023.
Just visit any of these locations for the Beep card express renewal devices:
LRT-1 stations: Baclaran, Central, Doroteo Jose, EDSA, Monumento, and Roosevelt
LRT-2 stations: Cubao Araneta Gateway, Diamond Arcade Aurora, Legarda, Pureza, and Recto
MRT-3 stations: Ayala Avenue, Cubao, North Ave., Shaw Blvd, and Taft.
Other Inquiries
Visit the Help & Support section in the Beep website in case you may have other questions or inquiries.
Conclusion
The Beep card is a great payment option that makes commuting in the Philippines more convenient. If you're looking for a way to make your daily commute or convenience store trips easier, then the Beep card is definitely worth considering.
References: Beep website, Topgear, Spot.ph, Philippine News Agency