A few days ago, my partner and I went to Filinvest City Event Grounds for Wanderland. We had originally planned to (begrudgingly) take a car with our bikes onboard because the only other option we had thought of was to bike all the way, which for a number of reasons was not ideal[1]. However, after a bit of research, we realized that a P2P bus in conjunction with our bikes would be viable.
In this blog post, I will be walking you through how we planned the trip, how the trip went (video included), and what I learned about how P2P buses and our bikes mixed.
Planning
Planning isn't as straightforward on Sakay, because the app can't quite handle bikes yet. That said, the first step is obvious: search for a p2p bus that can take us there.
Note though, that when you visit the link above, it might not give you the same route as the screenshot above. This is because we don't include the mode preferences (i.e. jeep, bus, MRT, P2P, etc...) in the URL for a number of reasons I won't get into here. Once you set the modes and tick the P2P checkbox, it should give you a similar route.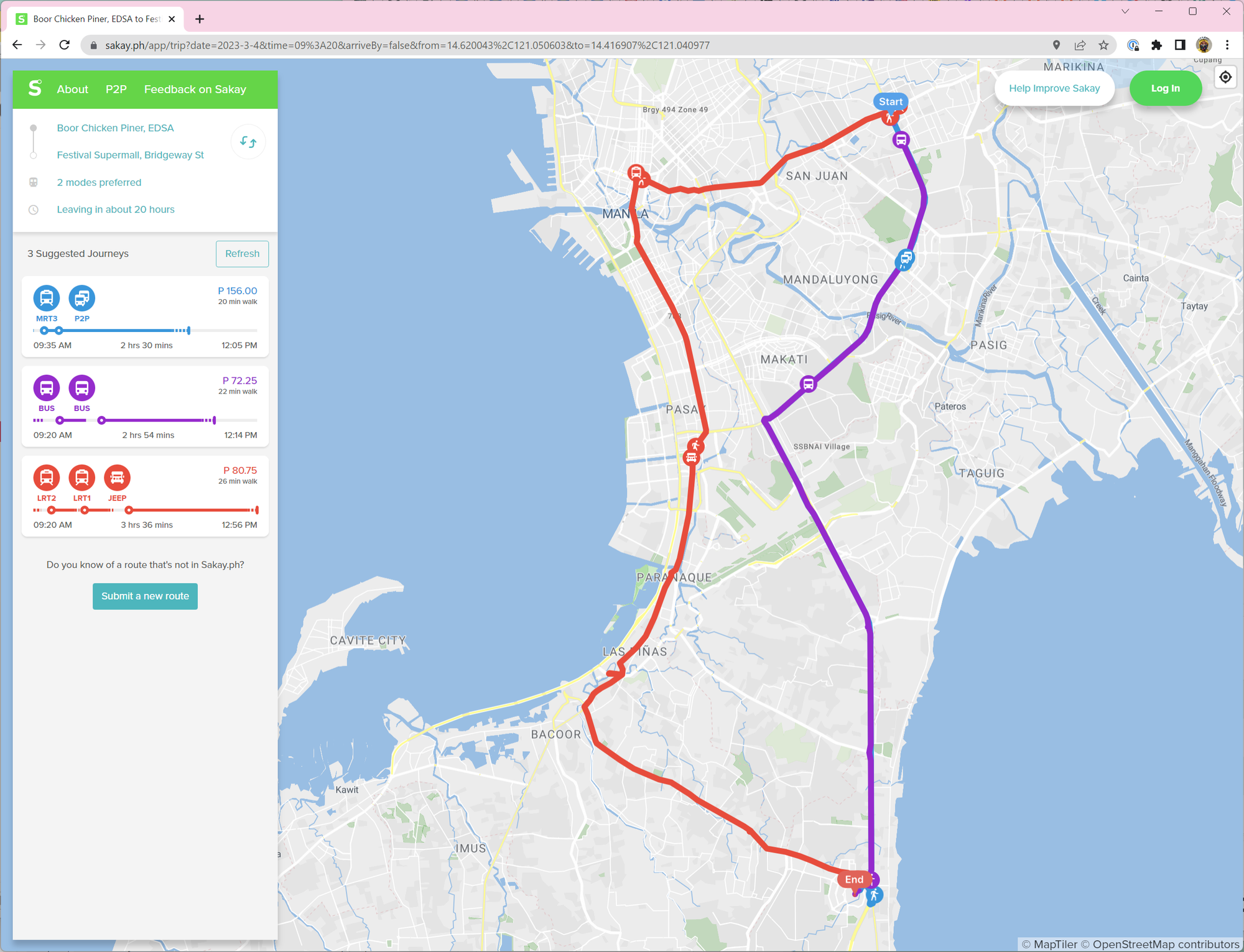 But what if I want to know all the possible departure times? The time I set earlier only makes sense if I plan to take public transport all the way. As a cyclist I have some leeway for when I leave, and I want to know what my options are if I miss a bus, or if a bus is full. For this, in the Leg Detail view, there is a button that says "View all stops, full route, and schedule", which will take us to the Sakay Route Explorer.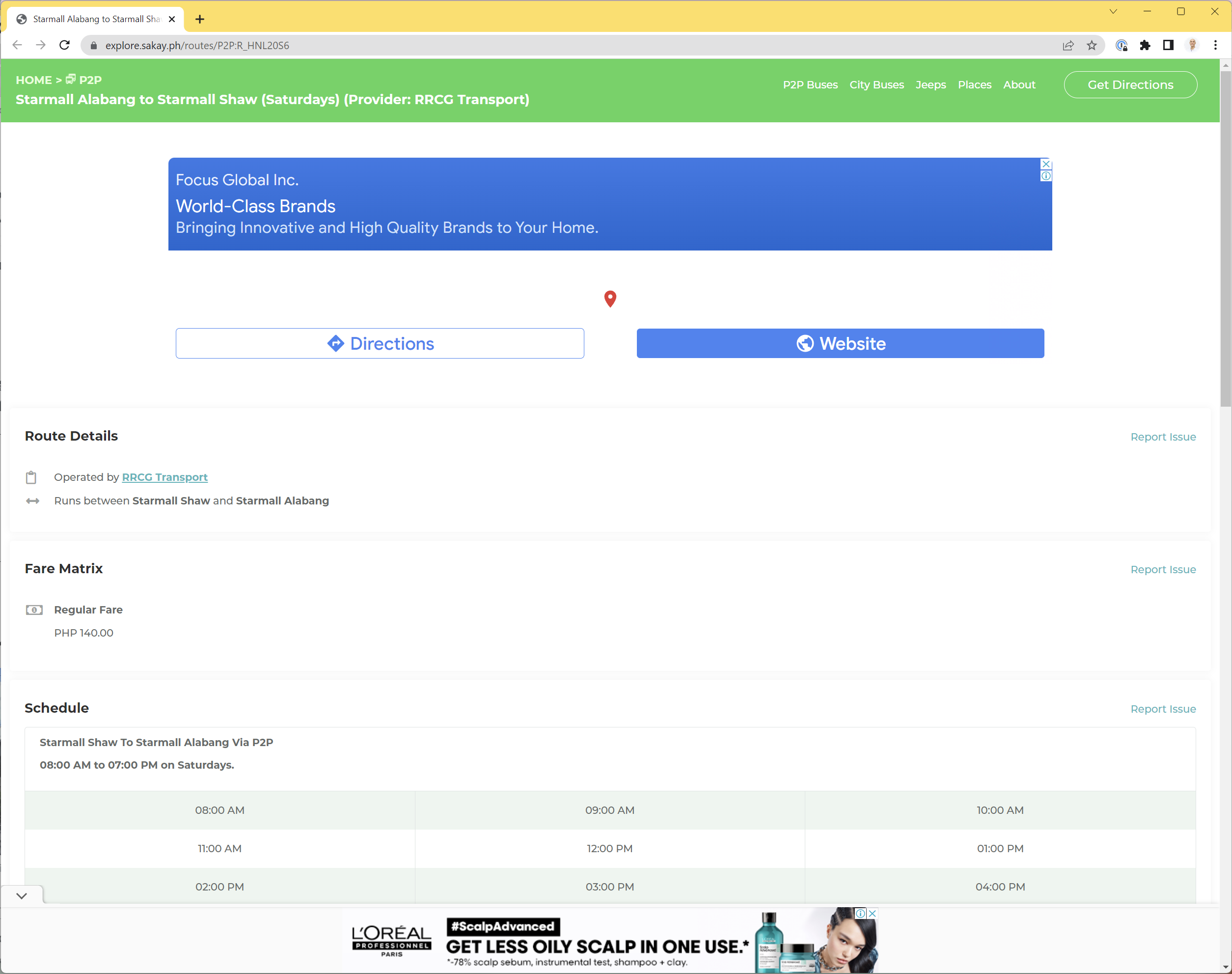 This is Sakay's route explorer, which gives more detail about a particular service: the operator, origin and destination, fare, and most importantly, the schedule. Armed with this knowledge, all we had to do was prep our bikes, gear, and clothes, and then we were off.
The Trip
The sections below are not in chronological order, but grouped by transportation mode plus the venue.
P2P buses and Our Bikes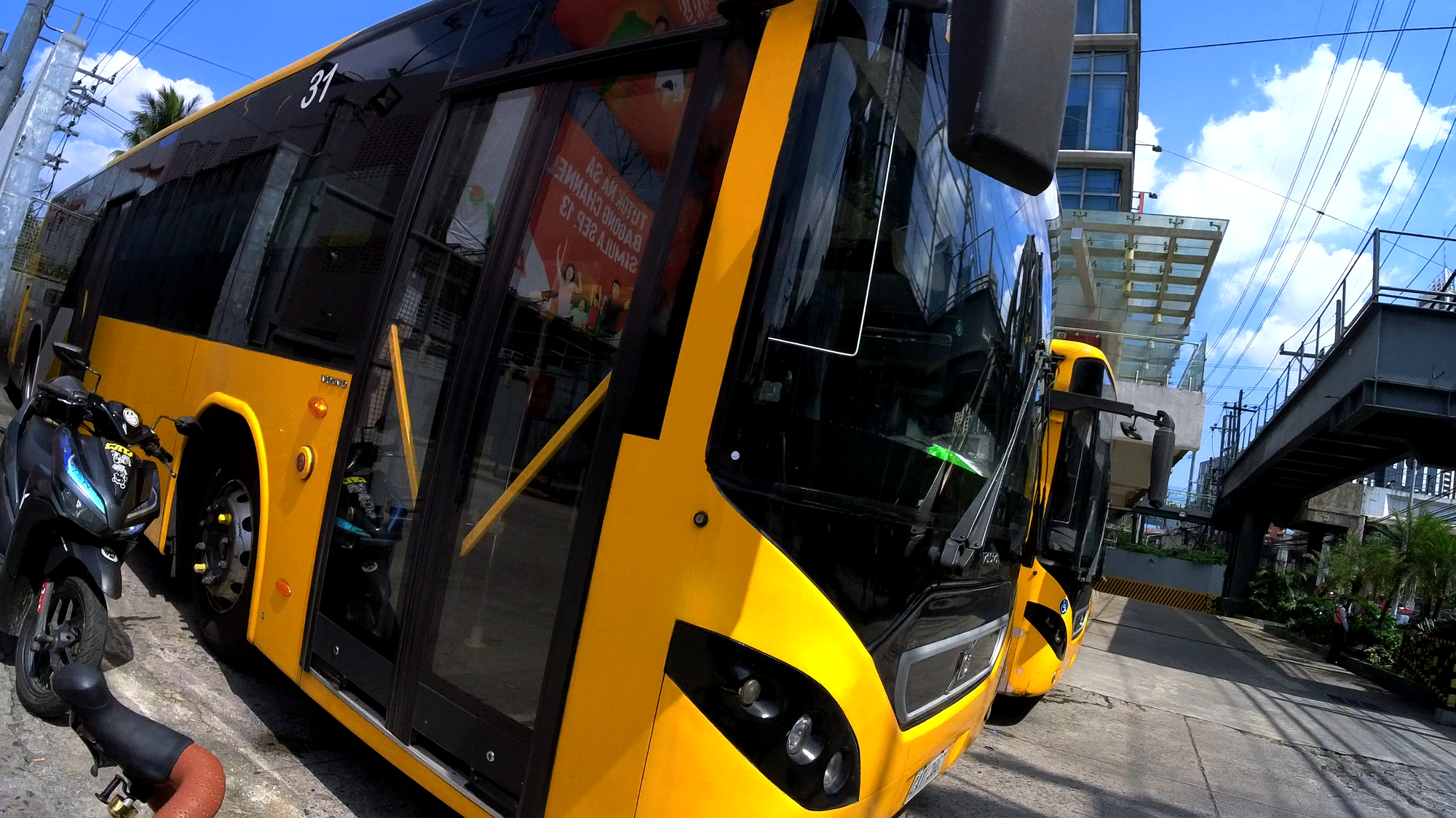 We encountered two types of buses: the European-style city/transit buses and the more common tour buses (known as coaches in the rest of the world). The former was more spacious and comfortable, whereas the latter allowed us to choose our seats earlier.
Transit Bus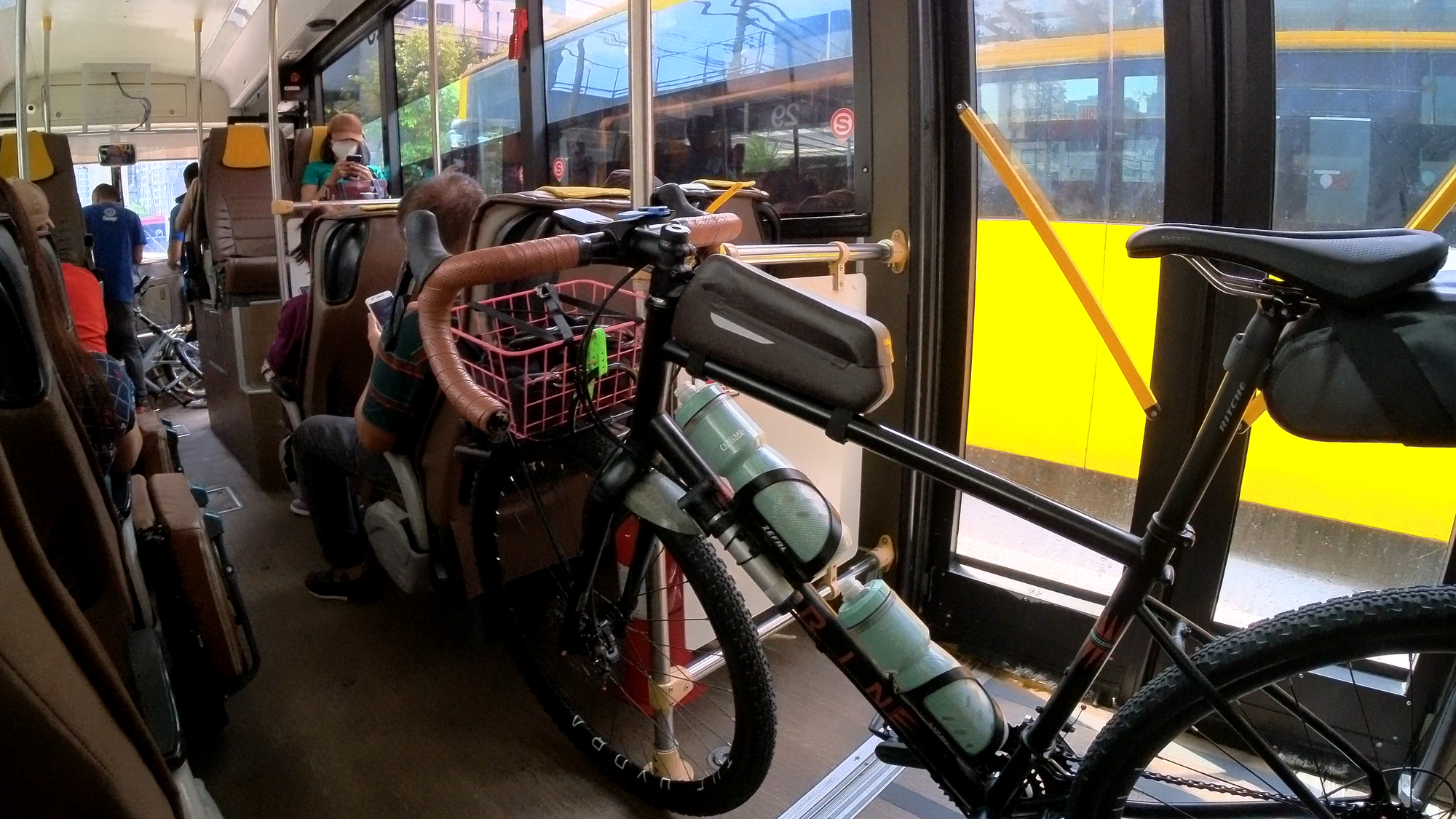 With the transit bus, we could just leave our bikes along the aisle, but because the bikes would become obstructions, they asked us to wait until the bus was just about to leave, before we loaded our bikes. Consistent with what my friends have said, you could comfortably fit two full-sized bikes aboard, assuming nobody else had anything big they needed to keep on the aisle. If you have folding bikes, you don't really need to worry as much.
This is one of the caveats of the transit bus style P2P. We're allowed on, but there's no specific affordance for it.
Tour Bus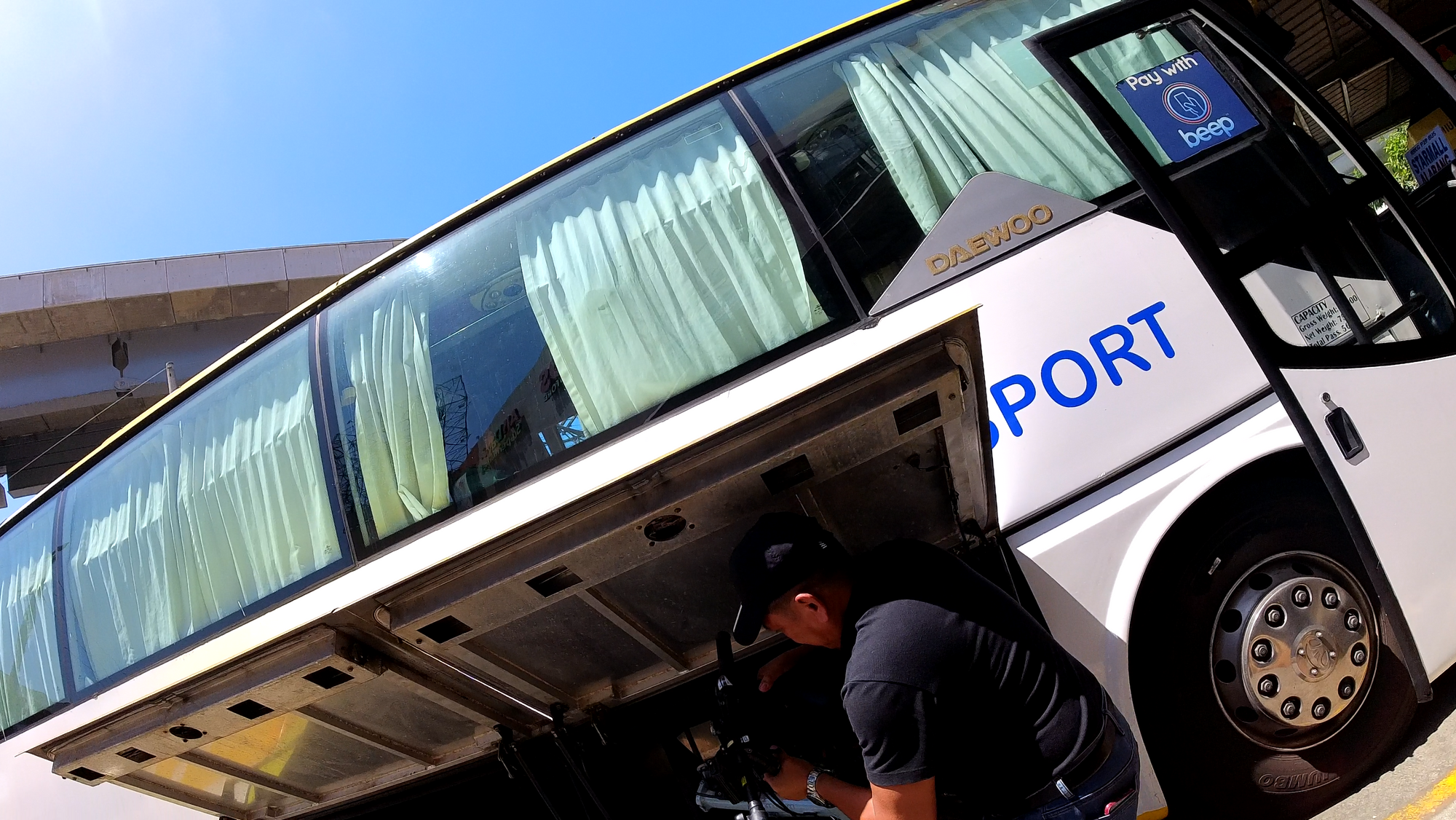 With the tour bus, we could load up our bikes into the baggage compartment. Because it was a separate compartment from the passengers, we could just shove them in and then board. However, it was significantly more difficult to load our bikes. I would not recommend bringing an expensive bike to these types of buses, as there's a high chance they'll get scratched in the storage compartment. When getting off, make sure to shine a flashlight into the compartment to make sure nothing fell off in transit.
💡
Caveat! For either style of bus, we are at the mercy of chance. While few people use P2P buses with bikes, there will likely be no capacity problem. But if this style of traveling becomes more popular, we will become more and more likely to run into a situation where we have to wait until the next bus to load our bikes. That being said, I'd say this is a good problem to have.
In any case, the drivers and conductors were very accommodating, and put a lot of effort in helping us load our bikes.
Bike Segments
The bike rides were largely unremarkable except for the trip from the Airbnb going to Starmall Alabang. This was a challenge because we had two options to cross to the other side of SLEX: either take the ramp to the footbridge, cross, then carry our bikes down (because we could not see any ramp on the other side), or brave the SLEX traffic and make a U-turn like a car.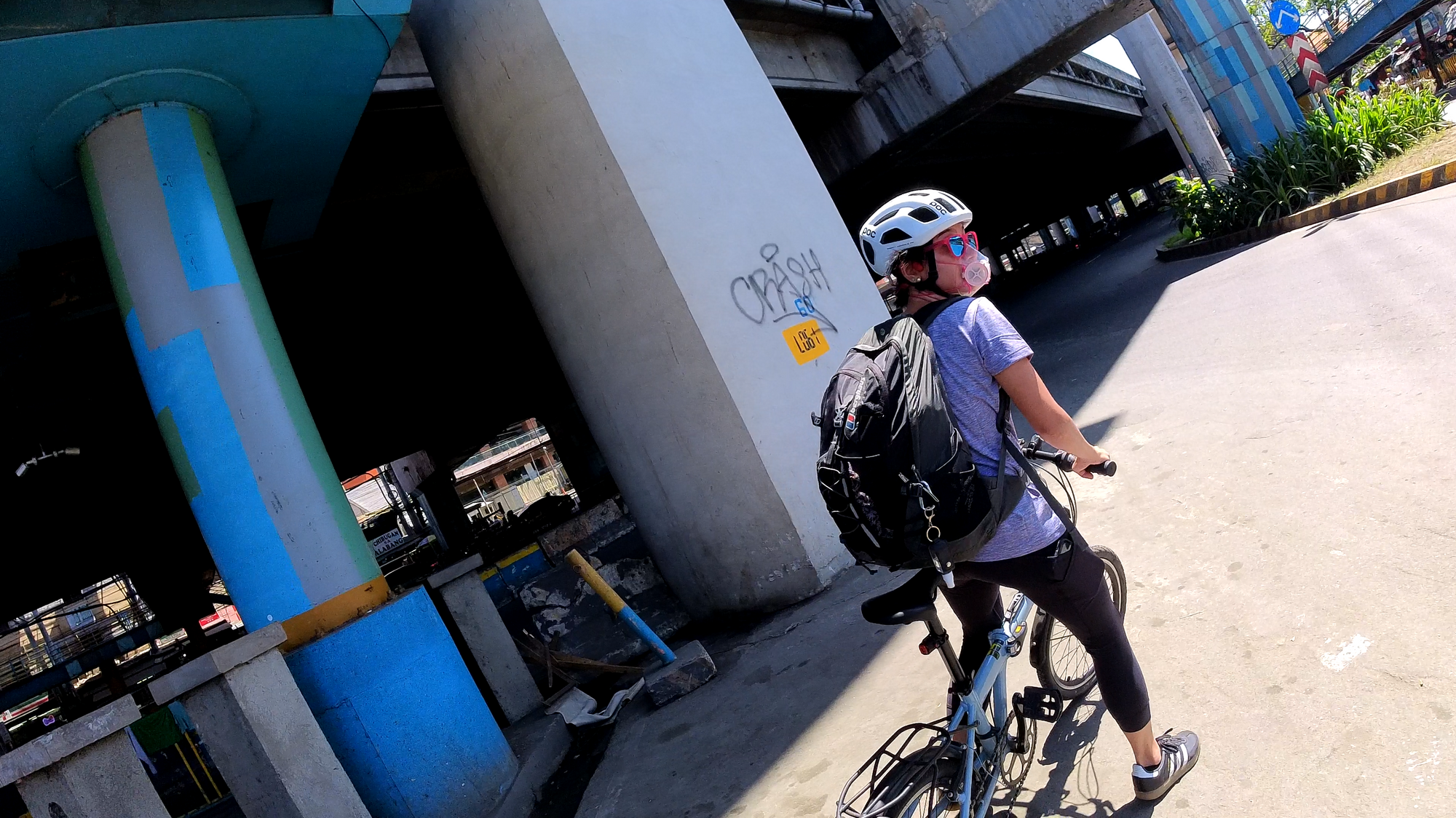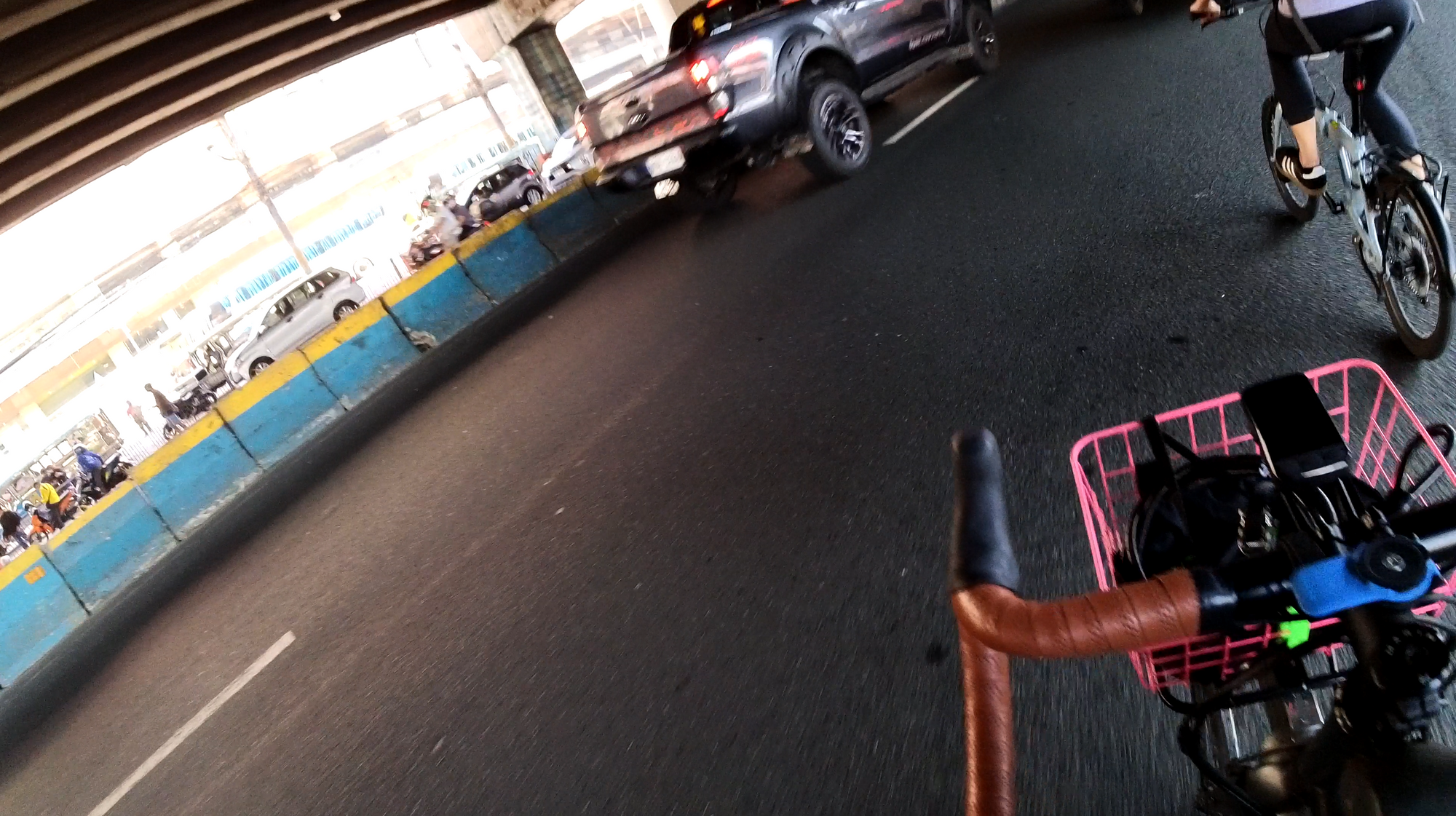 Luckily, Trix had been urban cycling for more than a decade, and while I was less experienced, I was still reasonably comfortable on the road. She took the lead, while I waved at the cars frantically from behind her for visibility. Thankfully, we managed to get to the other side without incident.
I wish there were a safer way to do this, and if one of you readers knows of a better way, please let us know.
The Venue
Parking at the venue was a breeze. There was ample parking for bikes, the guards were accommodating, the parking was free, and once we locked our bikes, we made our way to the grounds.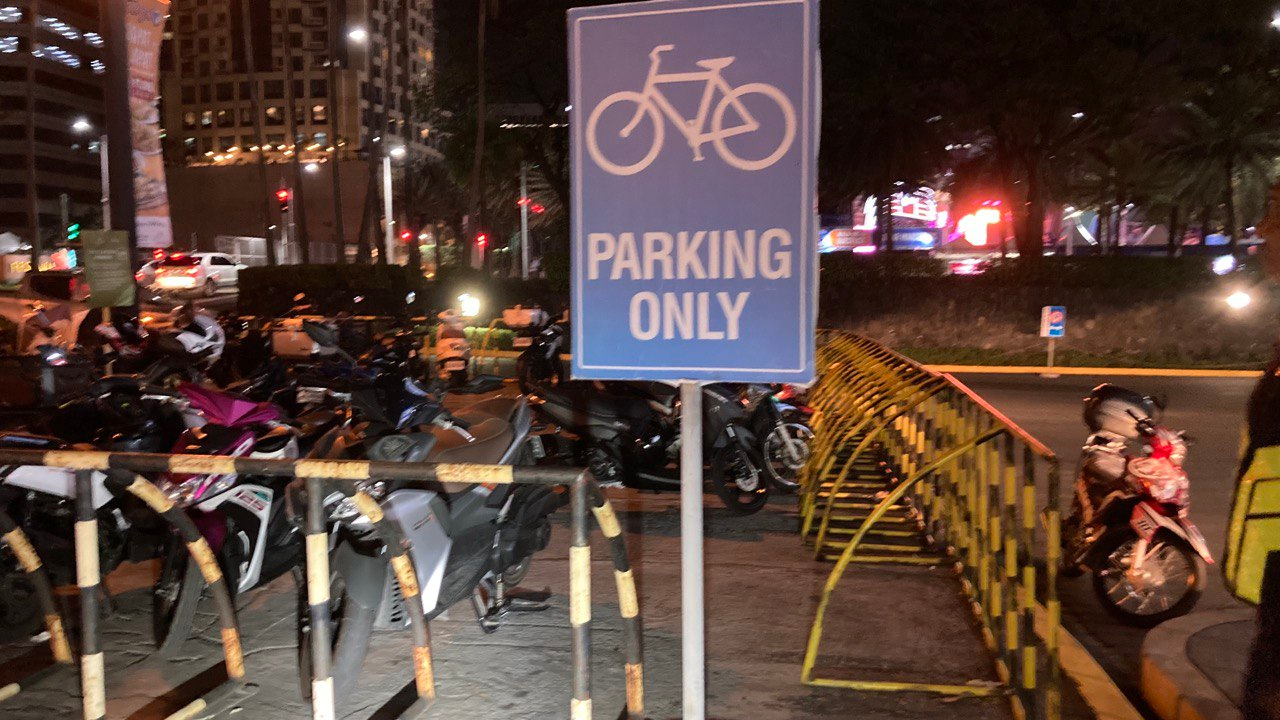 The festival itself wasn't perfect, but it was fun regardless! We ran into a bunch of friends, took the best photo booth photos we've ever had, and watched Carly Rae Jepsen live! All in all, the tickets were worth it. I won't be going further into detail as that is beyond the scope of this article.
The Video
We documented this trip on video as an accompaniment, and I hope it is both entertaining and useful.
Please forgive the awkward angle of the shots in the video, as the camera was clipped to my backpack strap, which meant the footage would always be off-center.
Conclusion
Our trip mixing cycling with P2P was cost efficient, gave us less stress than if we took a car, and was fun in its own right, but there were some aspects of the trip that would only have been possible because of what we were willing to put up with.
Cost Efficient
We were able to book value accommodations because our bikes extended our range.
Bus tickets were affordable at 140 PHP. Compare this to how much a grab ride costs, or how much a car ride would cost in terms of fuel.
Parking was free.
Less Stressful
Driving in itself is a source of stress for me, and the lack thereof was a great relief.
The fact that we didn't have to worry about parking at the venue meant we could relax beforehand, and once we got there, we didn't have to circle around like vultures.
In return, we had to plan ahead and physically exert ourselves, which is a tradeoff I am more than happy to make.
Big caveat: there was a spike in stress at the SLEX U-turn, but this was worth it for us. Please be careful if you guys ever decide to try this out.
Fun
On the bus, I could nap and spend quality time with my partner.
On a bike, it was a shared workout.
I felt like the trip (on both bike and bus) added to the whole experience, rather than taking away from it, as I would have felt if I were driving.
I am not the strongest person around, and while I have undertaken long rides out of town, those always made me tired to do anything afterwards. P2P opened a whole new world for me personally, as a person who wants to avoid driving as much as possible, and as a person who loves cycling. If you're willing to give it a try, Sakay and Sakay Route Explorer might be able to help.
[1]: I didn't want to deal with the SLEX service road. I had used it in the past, and I did not want to repeat that experience. Also, there was a chance we'd be too tired by the time we got to our Airbnb to even enjoy Wanderland.