The transport sector has been among the hardest hit by the global pandemic. The halt of public transportation during the COVID-19 lockdowns cut the main source of income of public utility vehicle drivers and operators. While more than 35,000 units have already been allowed to operate, it will still take a while for them to recover.
To help nation's drivers gain additional income and fill in the losses in their daily revenue, the Land Transportation Franchising and Regulatory Board (LTFRB) and the Department of Transportation (DOTr) launched the Service Contracting Program, as part of the Bayanihan to Recover as One Act or "Bayanihan 2."
This means that drivers are now being monitored and helped to optimize their service— and it's all being powered by Sakay technology. We are very happy to announce that Sakay serves as the System Manager of this project!
New Business Model for PUVs
Under the Service Contracting Program, the government pays drivers a salary covering the cost of service rendered per kilometer. Instead of operating on a boundary system, where PUV drivers only get to keep whatever's left after paying rent to operators, PUV drivers now get to earn a steady income.
Traditional and modern jeepney drivers earn PHP 11.00 per kilometer, while bus drivers will earn PHP 23.10. Distance is tracked using a new driver-assistance app that we developed. We assist in this process by tracking driver stats, and passing the results to government, for payout handling.
Earnings of the drivers could increase further based on service quality, commuter feedback, and performance of the driver.
Jeepney Live Locations
Since we now have access to GPS locations of jeepneys through the driver app, we've decided to share this information with our users. We're proud to announce that Live Location tracking of Jeepneys is now available, both on the main Sakay app, and on tracker.sakay.ph.
To access this feature, just load up a route search. Jeepney live locations will appear automatically in the map view!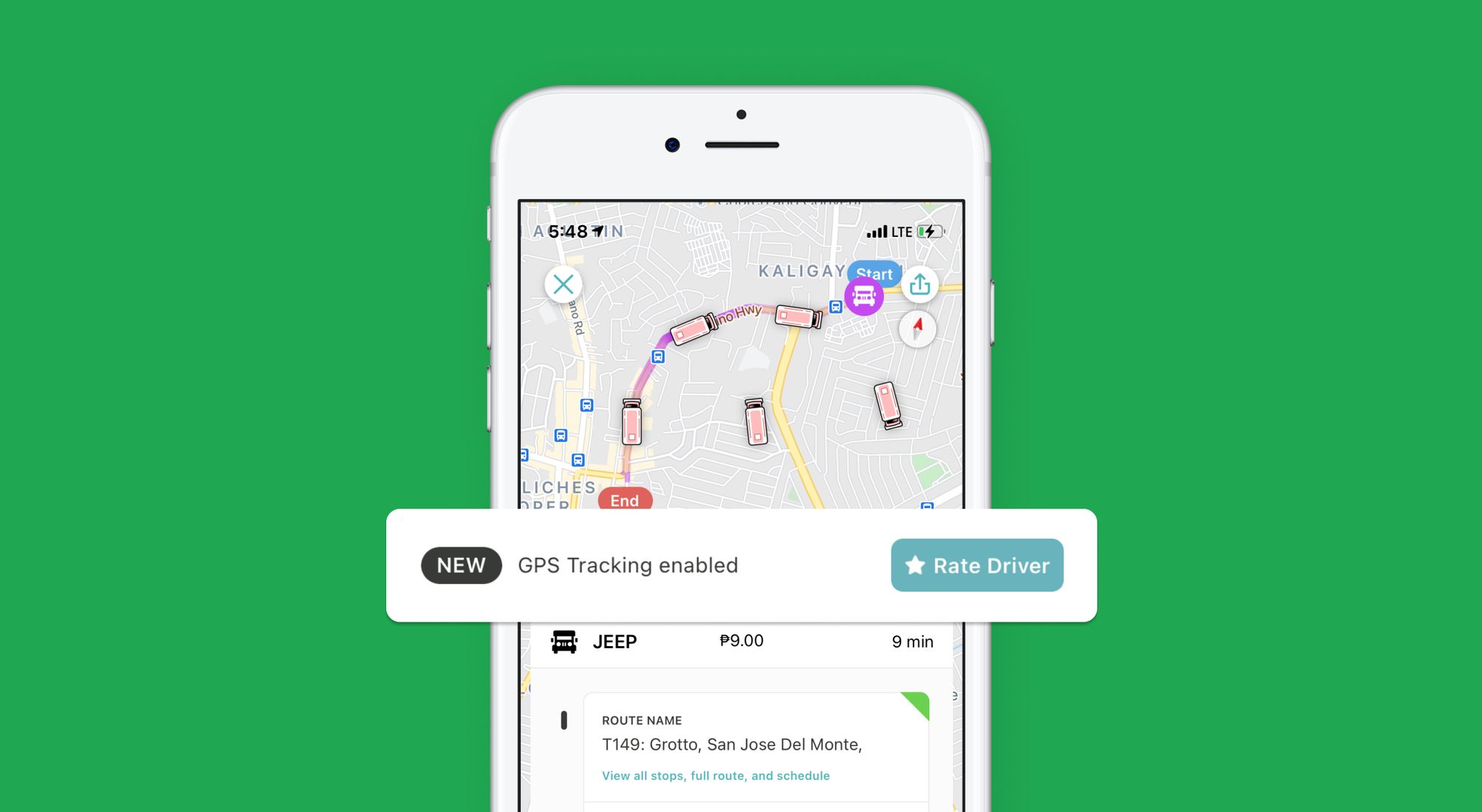 If you want a more zoomed-out view of what's going on with transport, check out tracker.sakay.ph, where you can view the locations of all tracker jeepneys at once, and filter by route!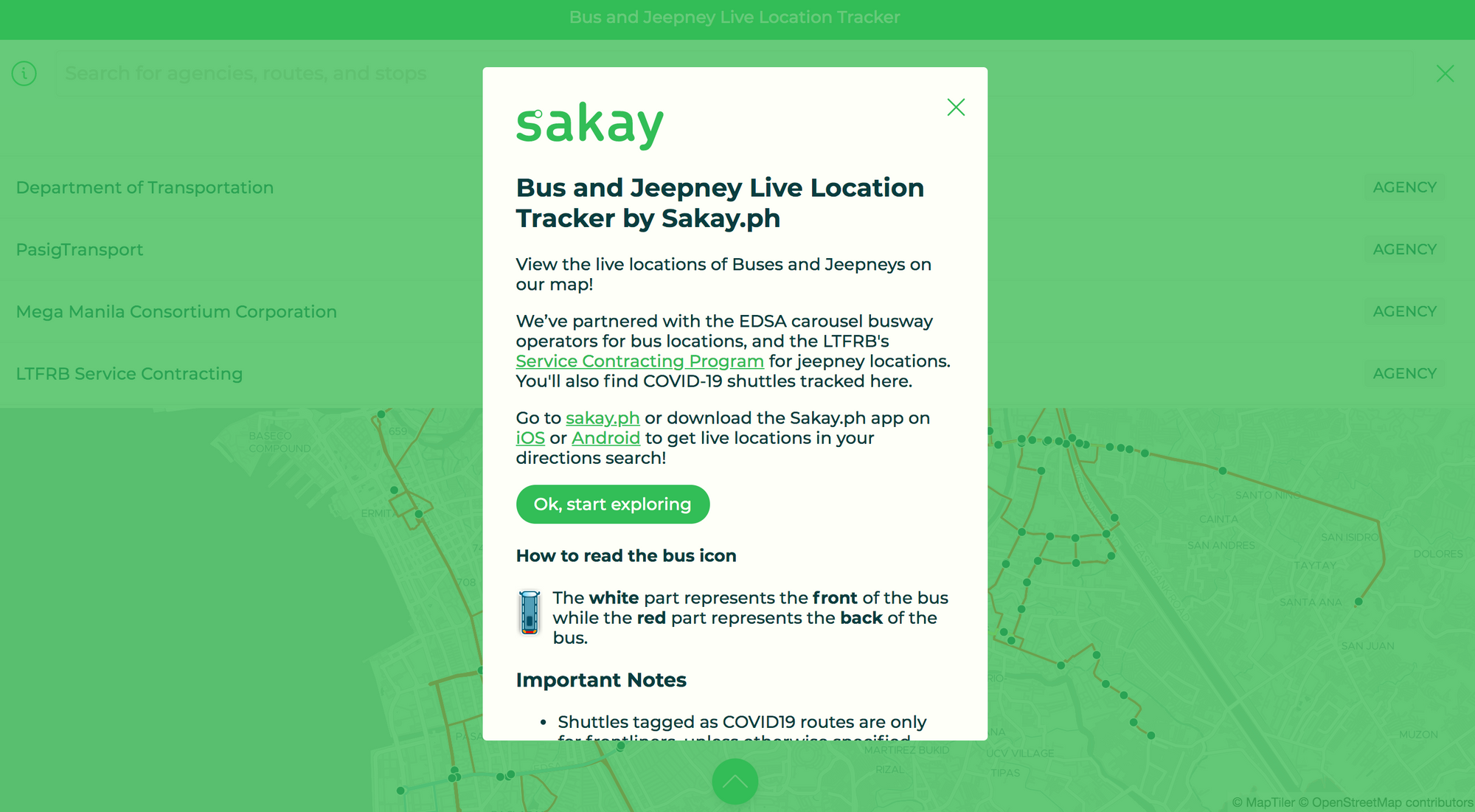 Commuter Feedback
We mentioned that earnings of the drivers could increase further based on service quality. The performance-based incentives will raise the level of service, reliability, and efficiency in the country's public transport system. Through the Sakay app, commuters can now rate and send feedback to drivers.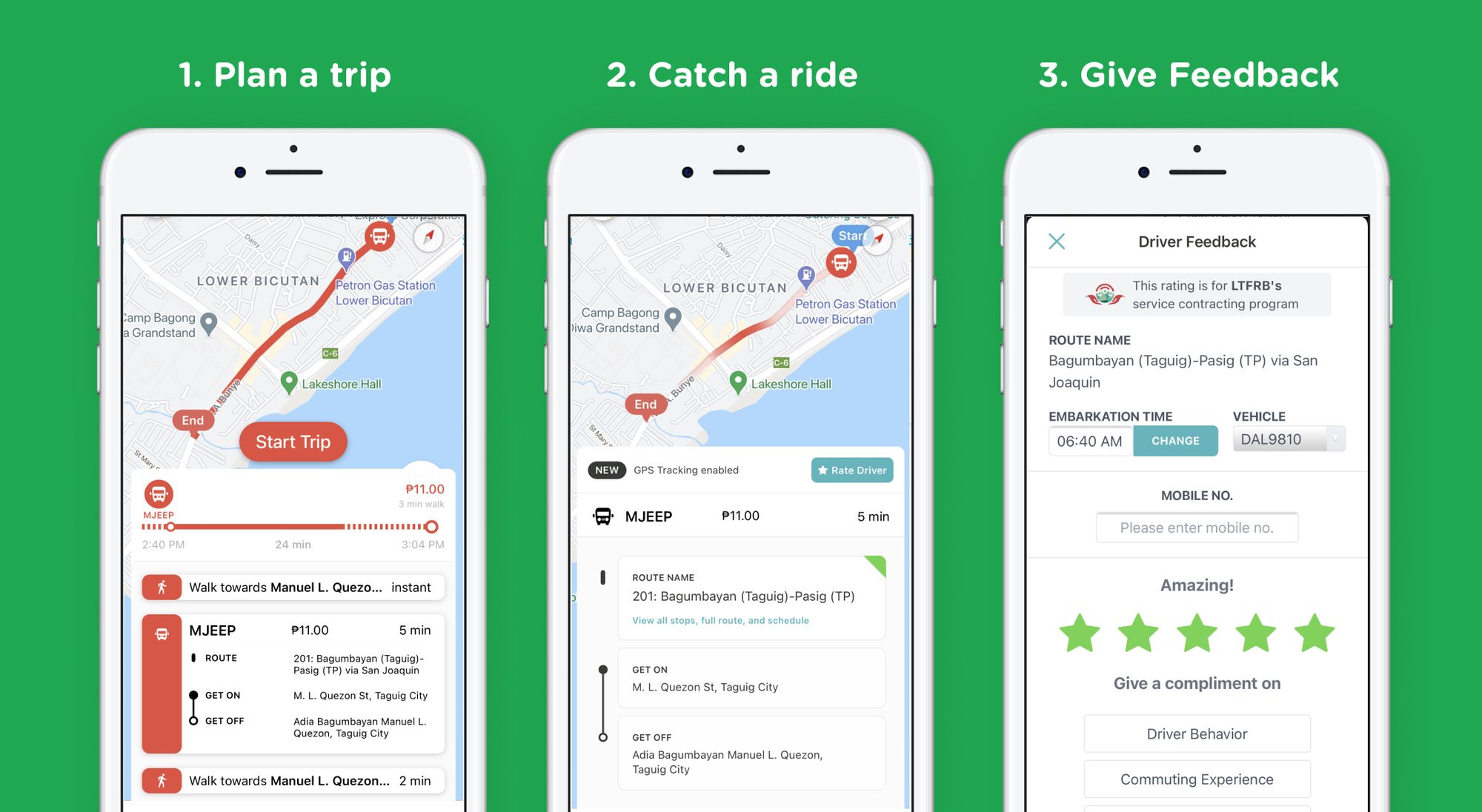 Regional Routes
Yes, you read that right! We're now available in select areas around the Philippines! The LTFRB's Service Contracting program helped us get to places outside Metro Manila.
As of writing, commuters in the following areas can now use Sakay to search for directions:
Laguna
Antipolo, Rizal
Binangonan, Rizal
Morong, Rizal
Ilagan, Region 2
Didipio, Region 2
Solano, Region 2
City of Bacolod
City of Roxas
Iloilo
Davao
Users in those regions can also rate registered vehicles using our search itineraries.
This is very much an early-access feature— only jeepney and walk itineraries for now. We know we haven't fully arrived yet, but we're confident that with everyone's help, we will get there! You can help us out by reporting any inaccurate info.
You can find our app at sakay.ph/app or on Google Play, the Apple App Store, and Huawei's App Gallery, and our searchable route database at track.sakay.ph