We're big believers in the value of information-- the entire point of Sakay is to deliver information about public transport to commuters. We like passing information to our users, and we like doing it fast.
But when the COVID-19 Quarantine hit, we were delivering information about vehicles that didn't run, to commuters that weren't allowed to go to work.
Yes, we'll say it: these have been trying times. But our response to difficulty has always been to reach out, and find other ways to help.
The fact of the matter is that public transportation is an essential part of life, even during a quarantine. Very few people are equipped to be able to move privately - even considering the rise of scooters, bicycles, and other alternative forms of mobility. Without access to transportation, essential workers - those keeping the country alive - have to walk hours to get to work. This saps their energy and puts them at further risk!
This was something we felt we could help with, so we've been very busy these past few months.
Faster Updates, Route Database
We started by collecting and moving information even faster, for the people who still needed to go to work. With health worker routes and transport policy changing every day, we dedicated a great chunk of our team to collecting data from various news items, posts and official press releases.
We compiled these into a dashboard at covid19dashboard.sakay.ph, and a searchable database of routes at covid19.sakay.ph. These sites constituted the most complete, up-to-date collection of information about Metro Manila's public transport situation during the quarantine.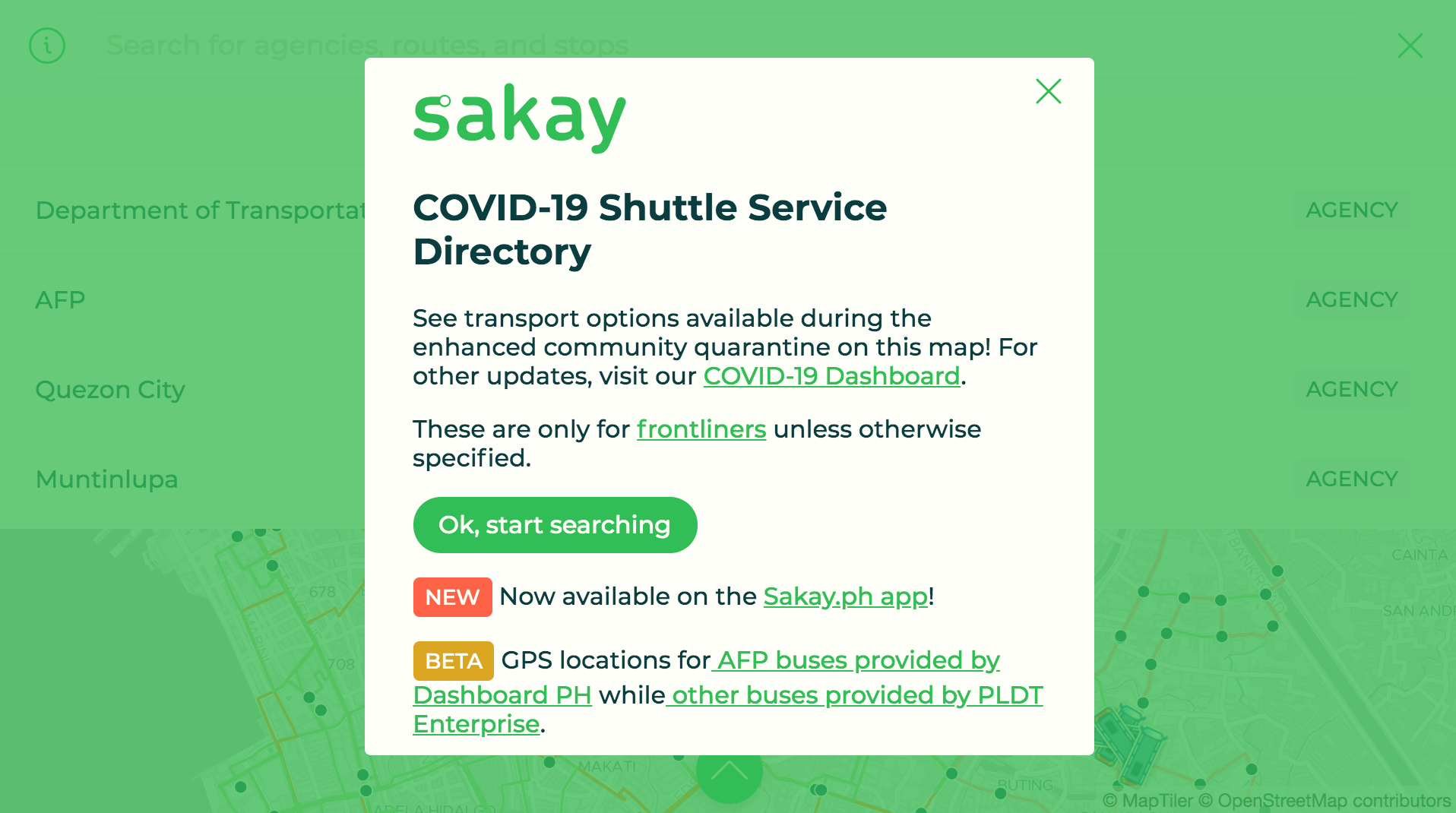 This all was great, but it wasn't fast enough. We needed to get information directly from the source.
Instant Route Editor
So, we modified some of our internal route-editing tech, and made it available to government bodies such as the Office of the Vice President, the Department of Transportation, and the Pasig City Government.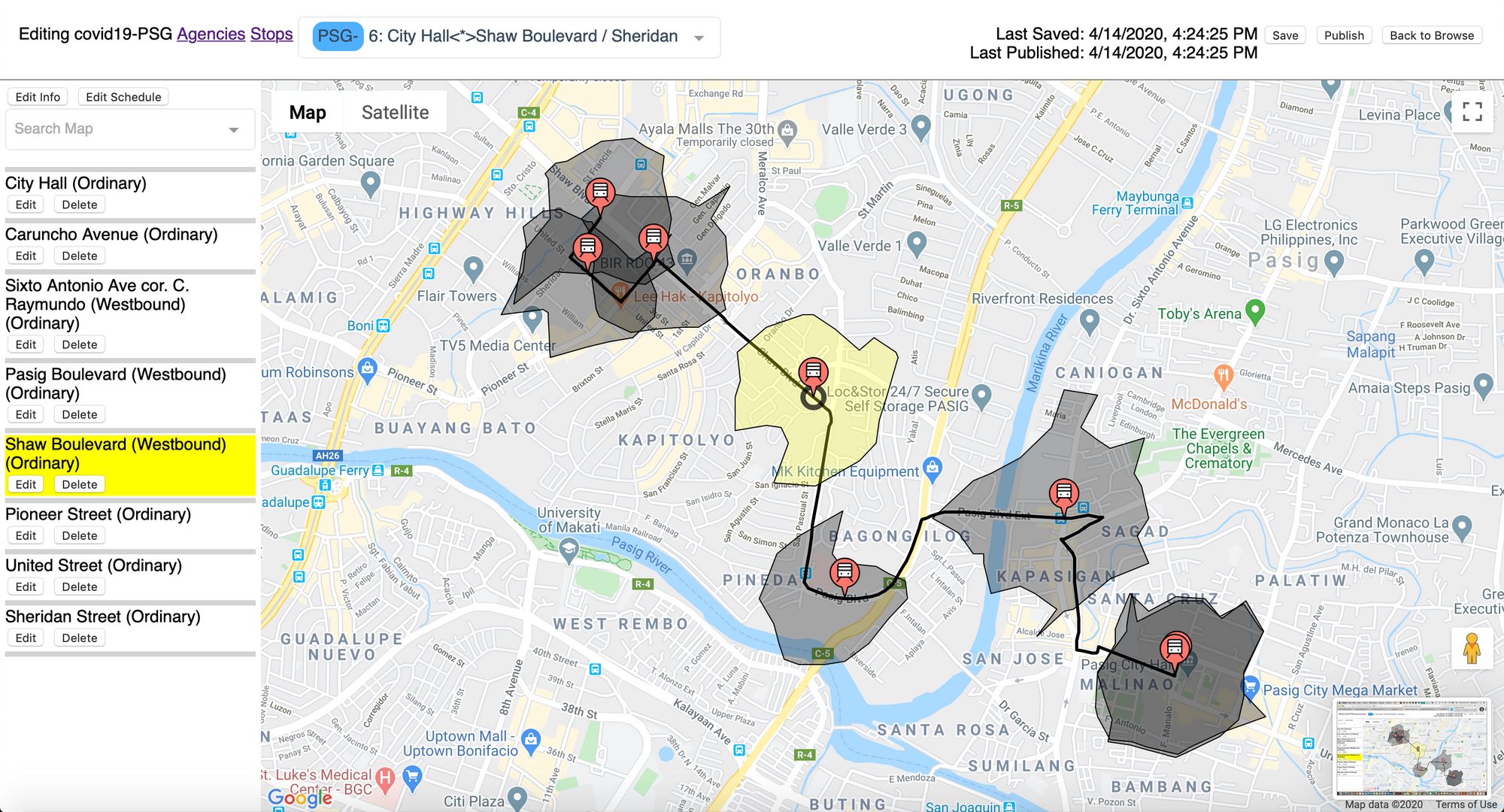 This allows them to encode routes directly into our database, and have their vehicle paths immediately appear as results on all Sakay sites, including our main app and our searchable route database.
Our editor software also helps with planning of routes, to maximize accessibility -- those black circles you see are actually the distances that can be reached from each stop with a few minutes of walking.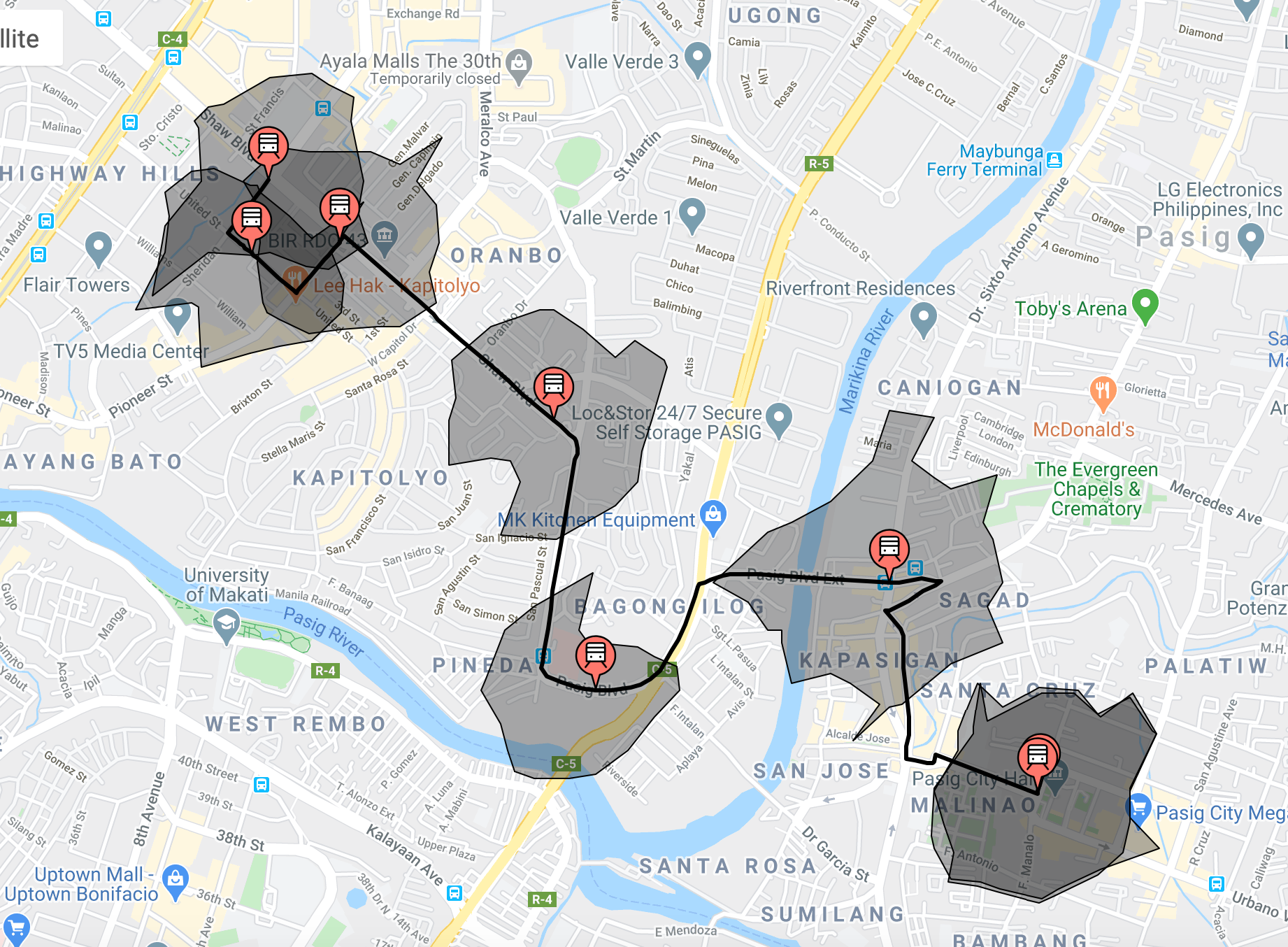 Still, we want to do more, and move information faster still. A common problem we've heard from users is that while transport routes may be correct, it's still difficult to predict if the actual vehicles will be available to ride at any given time.
This leads us to our newest feature, which we think will be helpful both during the quarantine period, and far beyond.
Live Locations and GPS
We're very proud to announce that Live Location tracking is now available, both on the main Sakay app, and on covid19.sakay.ph.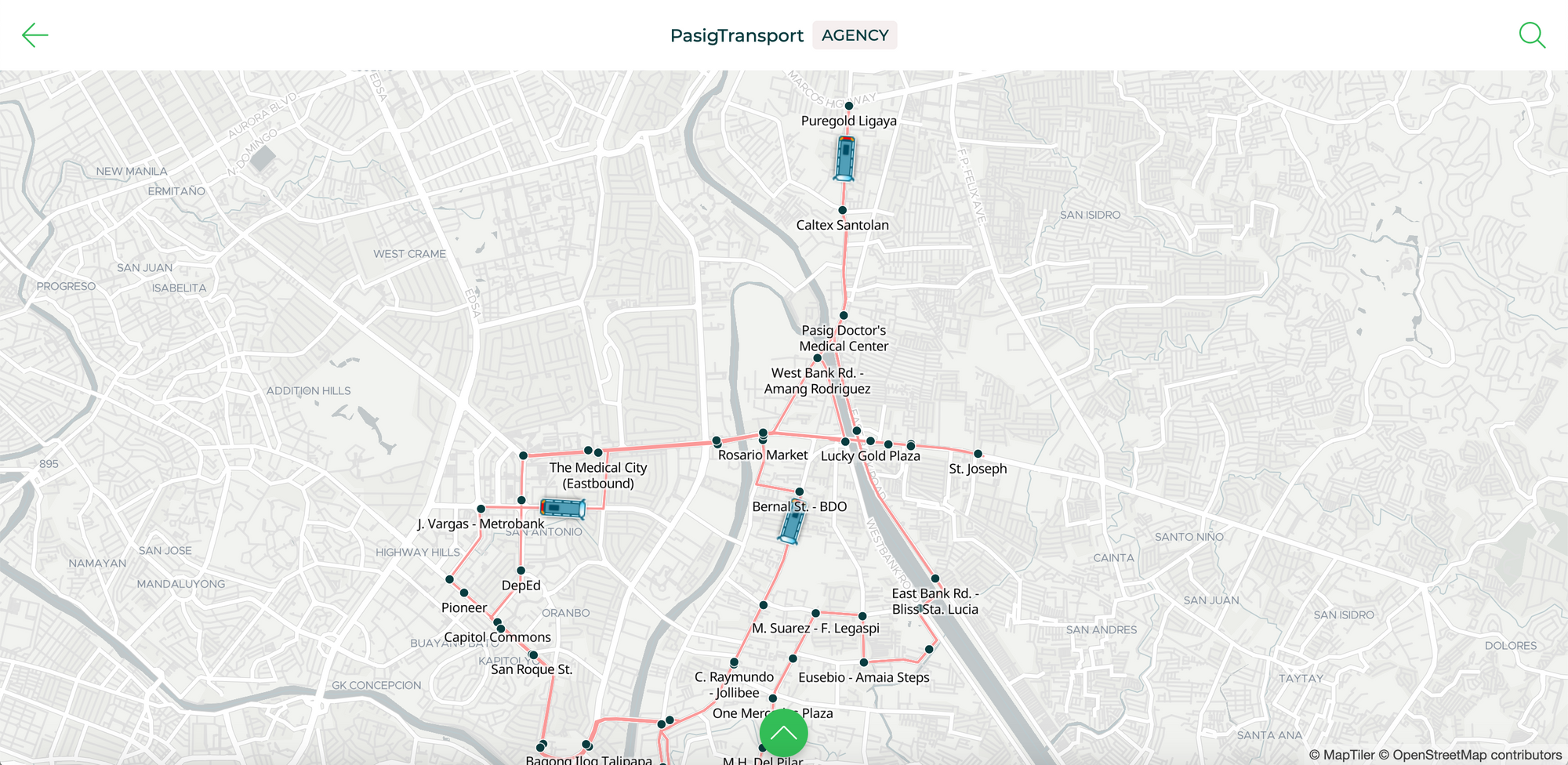 This is currently available for the free buses of Pasig City, the Department of Transportation's shuttles (in partnership with PLDT Enterprise), and vehicles from the Armed Forces of the Philippines (in partnership with DashPH). Sakay now displays live GPS data from each bus or shuttle, so users know exactly where their next bus is.
We're hoping this info will help reduce time spent waiting in line, or walking to a different stop because of a missed bus.
What's next?
As always, this is just the beginning. As I write this, the team is in the process of reaching out to other LGUs, government departments and transport providers. If you live in an area that isn't covered by our Live Location Tracking, we hope to be able to serve you very soon.
And apart from expanded coverage, there is a whole universe of other ways we can build from here, to make the data we serve more useful to everyone in the transport system. I'm not allowed to talk specifics yet, but those are coming soon, as well!
The world has changed in some truly horrifying ways these past few months, and it's scary to think about what comes next. But the only way we all get through this is by looking out for each other. And as long as we're still here, we promise to help you find your way.
Again, you can find our app at sakay.ph/app or on Google Play, the Apple App Store, and Huawei's App Gallery, and our searchable route database at covid19.sakay.ph
If you work with a government or transport provider, and want to know more about how Sakay can help you, please email us at contact@sakay.ph!